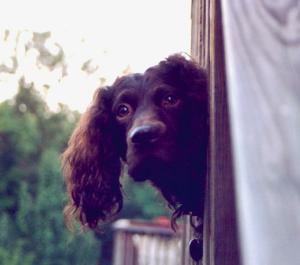 BEAU IS GONE BUT NOT FORGOTTEN!
June 4, 1991 – January 10, 2007
Mac, Belle and I will miss the big boy a great deal. But even at the last, he was a loving dog – a true Boykin Spaniel.
Now I hope he and Sophie are playing together.
When God made the earth and the sky, the flowers and the trees
He made all the animals and the birds and bees
And when His work was finished, not one was quite the same.
He said "I'll walk this earth of mine and give each one a name".
And so He travelled land and sea, and everywhere He went
One little creature followed Him until its strength was spent.
When all was named upon the earth and in the sky and sea
This little creature said "Dear Lord, there's not one left for me".
The Father smiled and softly said "I've left you to the end.
I've turned my own name back to front and called you DOG, my friend"
In Memory of Beauregard Pickett Burnside
A Much Loved and Special Part of the Family January 2007
---
Here is a pictorial history of me, Beau. Just a few images to let you know what my life has been like. Hope you enjoy what you see.